We work closely with a wide range of specialist organisations, sharing information, expertise and resources to maximise the relevance and impact of our work.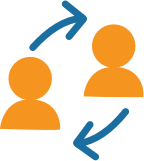 For funding, we are very grateful to the Lloyds Bank Foundation for England and Wales Transform Programme,  which aims to improve domestic and sexual abuse care provision, for the initial Visible funding. We are thankful to the Leeds Office of the NHS West Yorkshire Integrated Care Board, which provides current funding.
We'd like to thank all those who've supported our work, including Leadership Reference Group members and Strategic Steering Group members. 
Policy Statement Sign Up

Visible is about giving organisations and practitioners everything they need for doing what they realistically can to  help survivors of child sexual abuse.
Visible is hosted by Women's Counselling and Therapy Service, 5 Portland Street, Leeds, LS1 3DR, 0113 245 5725, Company No. 7804583.  Charity No. 1145377
This webpage has been developed by Visible with the help of epiphany-uk.com