We want to improve health and well-being outcomes for adult survivors of child sexual abuse.
Practitioners already understand that there are strong links between negative life outcomes and sexual abuse, and rigorous research backs this up. On top of this, services have seen increased demand for support and disclosure of non-recent sexual abuse since the Savile Inquiry in 2012 and other high profile cases.
Today, the time is right for Leeds to focus on how it can best help survivors of child sexual abuse, in the same way it already helps survivors of domestic abuse and violence. At Visible, we pioneer and support improvements in the response of services to adults who've experienced child sexual abuse. We also support statutory and voluntary bodies by working together to develop effective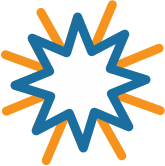 policies and best practices.
Visible is a catalyst for system change in health social care services across Leeds and beyond. The experience of survivors influences every aspect of the way we deliver that change.
'Visible is a powerful catalyst for change, inspiring city leaders to take action together for survivors whose needs have not been recognised since they were children. Visible works to ensure the conversation includes everyone.'